Rocky's American Grill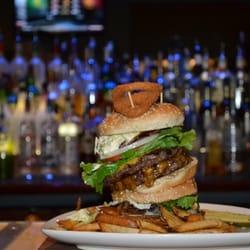 Rocky's American Grill is a neighborhood sports bar and restaurant serving lunch and dinner seven days a week.
The restaurant features a full service menu, flat screen tv's with all the latest sports action, pool tables, arcade games, dart boards, live dj's and cozy outdoor patio.
The family owned restaurant is proud to serve great appetizers, burgers, bbq ribs, chicken, steaks and much more, including homemade soups prepared daily.
Food & Drink Specials Every Day!
Opa Chicago recommends:
• Mozzarella Sticks
• Flaming Saganaki...Opa!
• Pulled Pork Sliders
• Wings and Fries
• Quesadillas
• Homemade Chili
• Louisiana BBQ Baby Back Ribs
• Southwestern Burger
Hours:
Mon thru Thurs 3pm-4am • Fri & Sat 11am-4am • Sun 12pm-3am
Serving:
Lunch
Dinner
Alcoholic beverages
Address:
Prospect Heights
,
IL
60070